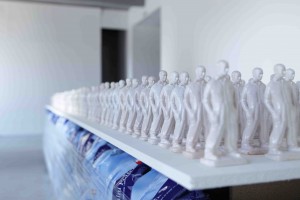 Curated by Beti Zerovc, the 29th Biennial of Graphic Arts in Ljubljana presents the energy and vitality of the medium of the art event in contemporary art and includes a new work by Gregor Kregar. A selection of art events will be presented in four different groups based on topics that are typical for contemporary art: violence, generosity, emptiness, and the search for the sacred and ritualistic. (source: 29th Biennial of Graphic Arts website).
Kregar's work Promotion and consists out of 600 mini self portraits that sit on plinths made out of 600 bags of washing powder. On conclusion of the show the figures will be packed in the boxes and distributed with washing powder to shopping centres as free gifts. When somebody buys the washing powder they get part of the project to take home. Ljubljana, Slovenia, 23 September – 20 November 2011.
Kregar is also included in SCULPTURE TODAY a retrospective study of sculpture in Slovenia at Gallery of Contemporary Art Celje.
21 participating artists change the gallery space into a space inhabited by "the people": a multitude of statues, figures and bodies mainly three-dimensional human figures in life size bearing reference to different personal, social and political contexts. Co-curator Toma Brejc explains: the exhibitions concept with the following words: Imagine an exhibition of merely bodies, statues, figures, phantasms, fragments, fictions. No matter what room I enter, they stare from everywhere or ignore me figures, more or less similar to human beings. (source: SCULPTURE TODAY press release 15.09.11)