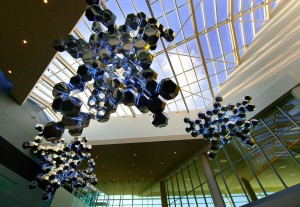 Gregor Kregar was recently awarded a commission for the new Christchurch Airport and phase one has now been completed.
The commission for the new terminal includes three indoor works and a large outdoor sculpture. The indoor works titled Clouds for Richard Pearse have now been installed in the new terminal building.
The suspended indoor works are made up of three stainless steel structures with blue cathode lights. As the title suggests, the works are inspired by Cantabrian Richard Pearse's pioneering experiments in aviation. In 1903 and nine months before the Wright Brothers flew their aircraft, Pearse flew and landed a powered airplane. Kregar noted "considering the location and context of the new terminal building, I want to commemorate Richard Pearse and his visionary inventive spirit through my work. His achievement is remarkable and I would like draw attention to this great New Zealand accomplishment, one that represents the pioneering and resourceful character of New Zealand people". The cloud-like forms also refer to a broader New Zealand context, particularly Aotearoa as the land of the long white cloud.
The second part of the project will be installed later this year.