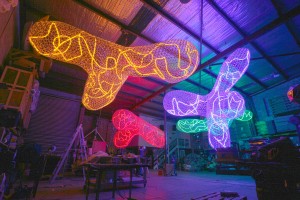 Gregor Kregar's studio event
7G Veronica Street, New Lynn
Saturday 1 November, 5-8pm
Open Studio timed to coincide with the culmination of Transit Cloud, a new public artwork for New Lynn that Kregar has completed in collaboration with Sara Hughes and Davor Popadic.
Transit Cloud will be unveiled to the public for the first time, and Kregar's studio will display a wide range of works.
Saturday 1 November also coincides with the re-opening of Te Uru gallery (formally Lopdell House) in Titirangi, where one of Kregar's 2 metre gnomes will welcome guests, and an installation of his waxworks will be displayed in the window. A fantastic opportunity to come West and visit Te Uru (open to the public 10-4.30pm on Saturday 1 November).